Beneath The Sea Mission Statement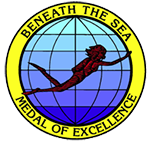 Beneath The Sea, Inc. is a nonprofit, volunteer, membership organization, recognized nationally and Internationally as a source of education about the ocean environment.
Our purpose is to:
Provide continuing education to the recreational diver community.
Educate the public in the benefits of protecting the ocean environment.
Support ocean and environment related projects and charities.
Beneath The Sea's programs stimulate interest in the aquatic environment be it sport, scientific, medical, environmental, and the crafts whether vocation or avocation. Beneath The Sea, through its Ocean Pals art-in-education program, Marine Careers, and Sea of Tomorrow Scholarship program is responding to the changes in our environment, by bringing education to youth, their parents, and teachers.
Beneath The Sea is a federally tax-exempt 501(c)(3) organization incorporated as not-for profit in the State of New York.